From Hobby to Business: The Story of Needy Cat Media
---
Are you tired of spending hours scrolling through endless online shopping options, only to be disappointed with the quality of the products once they arrive at your doorstep? Do you want to find high-quality products that align with your family's values, but don't have the time to do all the research yourself? Look no further than Needy Cat Media!
Our journey began with a simple goal: to inspire creativity in children. As parents ourselves, we wanted to encourage our own kids to explore their imaginations and think outside the box. But as we delved deeper into the world of creativity, we realized that finding the right tools and products was often the biggest obstacle.
That's why we decided to turn our hobby into a business, and Needy Cat Media was born. Named after our own "needy" Maine Coon cat, Shadow, our mission is to help you find the products you need to fuel your own creativity, without all the hassle. We carefully curate our selection of products, ensuring that each item is well-crafted, useful, and aligns with our own values as a family.
But Needy Cat Media isn't just about products - we also offer a variety of YouTube content to help you explore your creativity in different ways. Whether you're looking for delicious dessert recipes with Dawn's Delicious Desserts, do-it-yourself projects with our DIY channel, or software and home media videos, we've got you covered. And with new videos added regularly, there's always something new to discover.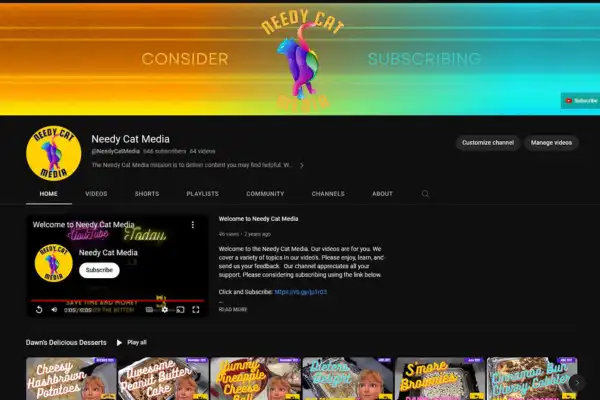 So why should you consider subscribing to our YouTube channels? For starters, our videos are entertaining, informative, and packed with personality. We like to think we're pretty funny, too. But more importantly, our channels offer a wealth of knowledge and inspiration to help you unleash your own creativity. From learning new baking techniques to tackling home improvement projects, we're here to help you every step of the way.
At Needy Cat Media, we're all about making your life easier. That's why we're constantly on the lookout for new products and ideas to share with you. So why not join us on this journey? Subscribe to our YouTube channels, and let us help you discover the best products and creative outlets for your family. And if you have any questions or feedback, don't hesitate to reach out - after all, we're just a bunch of cat lovers who want to help you find what you need, grab it, and love it.
Subscribe and Watch More