WinX DVD Platinum: A Convenient and Reliable DVD Ripping Tool
Click on the image to download and try WinX DVD Ripper
---
At Needy Cat Media, we recently had a date with WinX DVD Platinum, and it was love at first rip! We couldn't get enough of this software, which is designed to extract video content from DVDs and convert it into digital formats that can be played on various devices, like your phone, your tablet, or even your grandma's dusty old DVD player.
One of the best things about WinX DVD Platinum is that it's super easy to use, even if you're as tech-savvy as a pineapple. The interface is so user-friendly that even your grandpa, who still thinks the internet is a fad, could use it. Plus, the step-by-step guide makes ripping your DVDs a breeze. You'll be a pro in no time!
Click on the image to download and try WinX DVD Ripper
We were blown away by WinX DVD Platinum's performance when we uploaded our home media into our PLEX server. It was like watching a magician turn a rabbit into a dove, but with DVDs and digital files. The software converted our DVD collection into digital formats that were compatible with our server, and the file compression was so impressive that we saved a ton of storage space without sacrificing video or audio quality. We felt like superheroes with the power to compress time and space!
We converted our media to the MP4 format, which is like the Swiss Army knife of video formats. It's compatible with most devices, including your toaster (okay, not really, but maybe one day!). And if you want to see WinX DVD Platinum in action, we will be making a YouTube video that will demonstrates how the software works. We will have it uploaded in the next couple of days. Just don't blame us if you become addicted to ripping DVDs!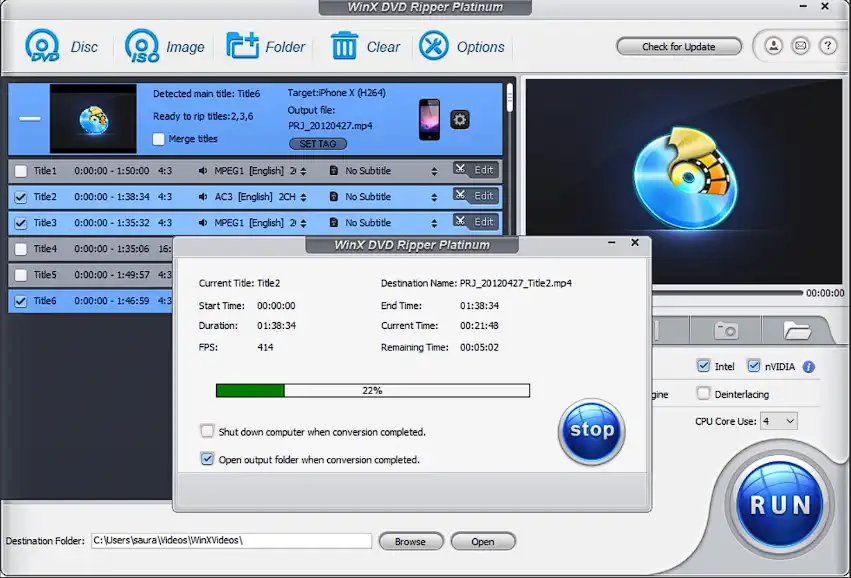 Click on the image to download and try WinX DVD Ripper
It's important to note that WinX DVD Platinum is intended for home media conversion only. So if you're thinking of ripping your neighbor's DVD collection, just remember that we're not responsible for any legal trouble you might get into. Also, WinX DVD Platinum doesn't work with Blu-ray discs, so if you have a collection of those, you're out of luck...sorry!
In conclusion, we would highly recommend WinX DVD Platinum to anyone looking for a convenient and reliable way to rip their DVD collection. It's our new BFF (Best Friend Forever) and we think you'll love it too. So go ahead, give it a try! You might just fall in love with ripping DVDs (and maybe even become a superhero, who knows?).
Limted time offer for new customer, click here for $20 Off a Lifetime license
Subscribe and Watch More